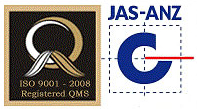 We have been appreciated by the customers of national and international states that our products have the richest and noteworthy features. We are truly dignified to introduce ourselves as the Soft-tech Ion Exchange Engineers. We are approved by various standardized trademarks. They include International Organization for Standardization (ISO), DNB and ASCB.
The qualities of our product are derived from the years of experience and substantial cognitive and knowledgeable skills of our intellectual engineers.
These parameters help us to adhere with various industry norms and also help in detecting any flaws before installing these equipment at the clients end. It is particularly taken care that while catering to bulk orders, quality does not deteriorate.